Who is this Paul character, anyway?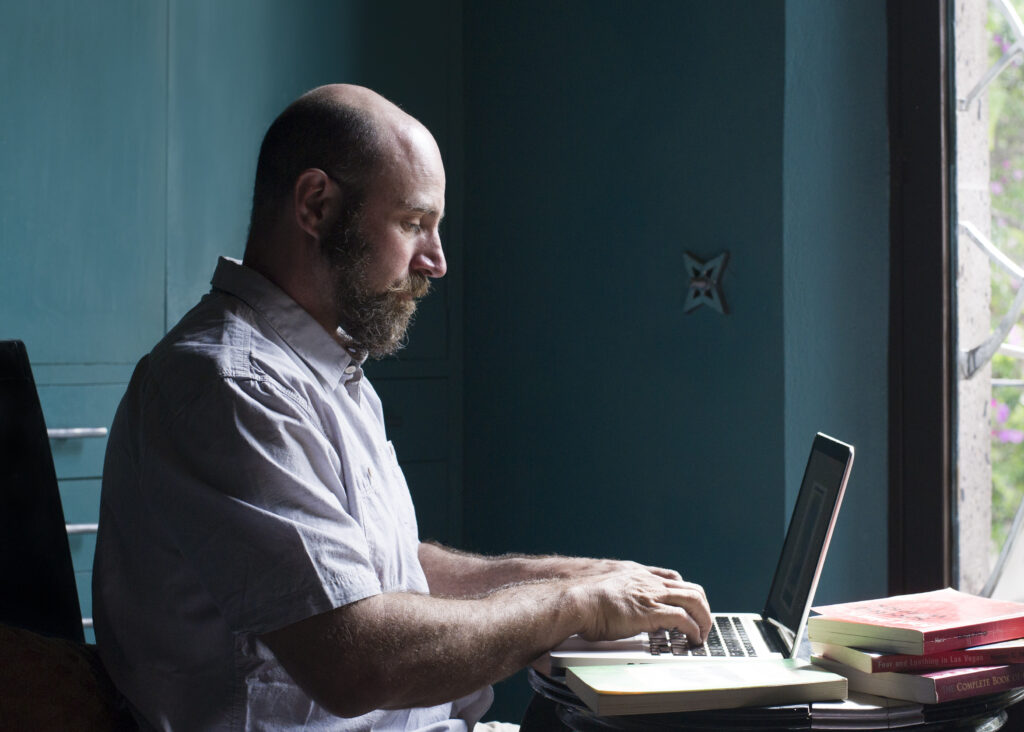 Paul was the oldest child and only son of Paul Peter Carlino, Jr. and Joanne Carlino. He would have been a third if his mother hadn't given him the middle name Joseph, in honor of her father. Paul's grandfather Joe turned out to be one of the great personalities of Paul's early life.
Paul attended public elementary school in Paramus, New Jersey. He was a pretty good student – getting mostly E's (for Excellent) and S's (for Satisfactory). He did get in trouble one day in first grade for scribbling on one of the other student's papers and spilling his chocolate milk on the floor at lunchtime and not cleaning it up. After that, he mostly toed the line.
Paul went to Paramus High School where he was on the baseball team and in the stoner's club. He still managed to graduate 36th in a class of over 300. He studied Journalism at Trenton State College in New Jersey, and inadvertently got one of his friends in trouble for featuring him in a story he wrote for the school paper titled, "And the Party Went on into the Dildo Hours". Since Paul graduated from TSC, the school has changed its name to The College of New Jersey.
Paul's first job out of college was as a journalist at the Bergen County Courthouse, where he worked on the in-house newsletter for almost three years before deciding it was a dead end and he wanted to be one of the well-dressed lawyers who stood around the halls each day doing nothing. He studied hard for the LSATs and did really well, scoring in the 97th percentile. When applying to law schools, he targeted Virginia schools because he had liked visiting his Aunt Pam in the state when he was younger. He was excited to be accepted to William and Mary School of Law in Williamsburg, Virginia. Paul thought he would study environmental law, or some other area of law that would promote humanity and social or natural welfare, but he actually found that he liked his tax classes best. So, as graduation rolled around in May 1998, he was applying for a lot of tax jobs.
It was at William and Mary that Paul met his future wife, Rebecca. Their first date was during the first week of their first year – Paul invited Rebecca over to his apartment for dinner. He thought it went pretty well, Rebecca commented that she liked the books on his shelves, but they didn't date again until they graduated three years later. Rebecca's parents had mistakenly taken her car keys home with them after watching the graduation and helping her pack her apartment. Rebecca still had some appointments around town so Paul offered to drive her around for the few days it took the US Postal Service to bring her keys back. This time, it really went well.
After spending the summer studying for the combined New York and New Jersey Bar, Paul spent a year clerking for a judge on the New Jersey Tax Court, where he learned a few things about tax law. The most important thing he learned, however, was that a lot of attorneys turned in briefs to the Court with multiple spelling and formatting errors. It seemed like such an easy thing to avoid and Paul vowed to take more care in preparing his own documents.
When the clerkship ended, Paul and Rebecca spent three months traveling (mostly) in Rajasthan, India. One night while on a camel safari deep in the Thar Desert, with the dung beetles busily doing their work around the blanket Paul and Rebecca had spread out in the sand, Paul proposed marriage. The next afternoon, after a shower, Paul went into town and purchased a silver band with a pearl set in it as the engagement ring. It cost $7.50, and Rebecca still treasures it to this day. They were married.
Later that month, Paul moved from his job as a Law Clerk at the US Tax Court, to an attorney position with the Office of Chief Counsel at the Internal Revenue Service. He held various positions of increasing responsibility with Chief Counsel until he resigned in 2018.
Two of the happiest days of the marital union were in 2002, when Maya joined the family, and in 2005, when the couple added Jonah. And things went on merrily. In 2008, the family traveled to Ecuador for four months, which set the stage for a year-long overland trip through Mexico and Central America in 2015-2016. Things just weren't the same when the family returned to the US after this trip, and in 2018, the family moved to San Miguel de Allende, Mexico, where they still reside.
Contact Paul through the form below.